Halloween Express Costume Review and Giveaway
By Shannon Gosney
September 25, 2009
572 Comments
11767 Views

I still can't believe that Halloween is next month!  It was time to start thinking of what I wanted my 3 boys to wear (or what they wanted to wear – lol)!  Halloween Express came to my rescue!  Each of my 3 boys were allowed to pick out a costume!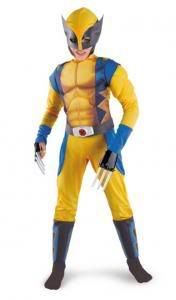 My 5 year old chose the Wolverine Costume and it was adorable!  He was so excited to take it out of the package and has it hanging on his closet door – telling me he is going to wait to wear it on Halloween.  He tried it on once but my camera wasn't working.  But let me tell you, he looked adorable!!  The costume has a muscle chest and claws that you fasten onto their hands.  The claws are made of plastic and long, so you want to make sure your child is not swinging them at people.  It is an awesome costume and one that many little boys will love!  If it's one you want for your little guy, I would hurry and buy it because they're selling out fast!
My 3 year old chose the Bumblebee 3-D Deluxe Child Costume.  I love the appearance of it and he feels so cool to be wearing a Transformers costume like a big boy.  I'm not sure if he'll keep the mask on the whole time, but it is for sure an awesome costume for a boy who loves Transformers!

My 2 older boys chose the Darth Vader Toddler Costume for my 1 year old.  He LOVES it!  He put it on and ran around the house with his brothers, so excited to be wearing a costume like a big boy.  It might be a challenge keeping the hat on when we go trick-or-treating, but overall, it is an adorable and soft costume and one great for a toddler!
I personally loved working with the team at Halloween Express.  I loved the prices and quality of the costumes.  Plus, they shipped the costumes quickly and I was given great customer service.  Halloween Express is definitely a company I would use in the future and refer to friends and family.
Thanks to Halloween Express, 2 lucky readers on The Mommy-Files will win gift certificates to pick out their own Halloween Costumes.  One winner will receive a $100 e-certificate and a second winner will receive a $50 e-certificate!!! 
WIN IT!!! (MANDATORY ENTRY)
– Visit Halloween Express and tell me in a comment what costume(s) you would pick out if you won one of the prizes.
EXTRA ENTRIES!!!
– Subscribe to The Mommy-Files – 1 entry.
– Favorite me on Technorati – 1 entry.
– Follow me on Twitter (themommyfiles) – 1 entry.
– Follow me through Google Connect (new) – 1 entry.
– Tweet daily (one entry per daily tweet for this contest).
– Blog about the giveaway and include blog link in comment – 3 entries
– Add The Mommy-Files button – 1 entry
– Comment on any other "non-giveaway" post – 1 entry per post
RULES
– Giveaway ends at 11:59 p.m. PST on Thursday, October 8th, 2009.**IF YOU SUBMIT A COMMENT AFTER 11:59 PM ON THURSDAY, OCTOBER 8TH, IT WILL BE DELETED**
– Winners must respond within 48 hours of the winning post or another winner will be chosen.
I received a costume for each of my 3 boys so that I could write an honest and real review of the costumes and services offered at Halloween Express. 
572 Responses to "Halloween Express Costume Review and Giveaway"