Parent's Choice
By Shannon Gurnee
February 14, 2014
1 Comment
2971 Views
This is a Sponsored post written by me on behalf of Walmart. All opinions are 100% mine.

Parent's Choice™ Infant Formula is a great option for moms everywhere, allowing them to give their baby the nutrients they need and save money in the process! Parent's Choice™ carries a number of choices in products, "Clinically proven to be as well-tolerated as the national brands."
A few of the options include:
– Parent's Choice™ Advantage Powdered Formula
– Parent's Choice™ Premium Powder Formula
– Parent's Choice™ Gentle Powdered Formula
– Parent's Choice™ Sensitivity Powdered Formula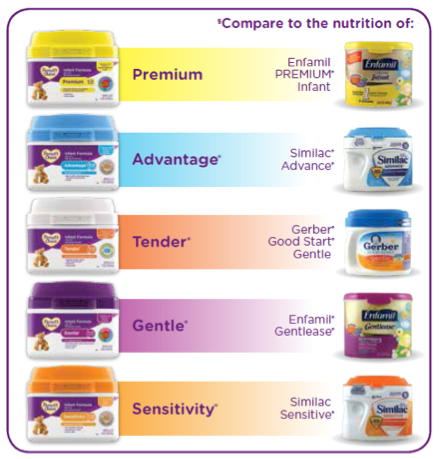 Head on over to the Walmart website and check out the Parent's Choice™ page. There you can read all about the great values of Parent's Choice™ as well as see how much you will save in comparison to leading brands. Parent's Choice Formulas are clinically proven to be as well tolerated as the national brands.
Some of the great positives of Parent's Choice™ are:
– Compare to Similac® and Enfamil®
– Meets FDA standards like all infant formula
– Contains DHA and ARA, which may support brain and eye development
– Milk-based formula
– Iron-fortified
– Calcium for strong bones
– Prebiotics to support your babies' immune system
Be sure to go online and check out Parent's Choice™ so you can give your baby the best and save money at the same time!
Related
Shannon Gurnee is the author of Redhead Mom formerly "The Mommy-Files", a national blog with a loyal following. She has a Bachelor's Degree in Marriage, Family, and Human Development with a Minor in Business Management. Shannon and her husband, Frank, have a large family with 6 awesome kids and love living on the Central Coast near San Luis Obispo, California, as well as traveling around the world. A full-time Social Media and Professional Blogger, Shannon also serves as a National Brand Ambassador for many well-known companies. Her blog focuses on motherhood, family fun activities, traveling, fashion, beauty, technology, wedding ideas and recipes while providing professional opinions on products, performances, restaurants, and a variety of businesses.
One Response to "Parent's Choice"