Celebrate Football Season with Good Eats from Buffalo Wild Wings!
By Shannon Gurnee
October 14, 2013
1 Comment
2784 Views
This is a Sponsored post written by me on behalf of Buffalo Wild Wings for SocialSpark. All opinions are 100% mine.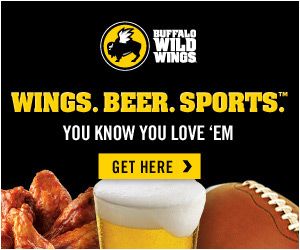 Who loves Football season? Well, it's time to celebrate the return of Football season with some good eats from Buffalo Wild Wings. From bottomless wings to game-changing beer (oh yeah), Buffalo Wild Wings will make sure you are prepared to tackle lunchtime or dinnertime head on.
Buffalo Wild Wings wants to help you get ready for Football season by co-hosting lunch parties at home (sweet!), the office and BDubs itself. They look forward to showing off an array of promotions, including the Game Changer Beer (made by Redhook and offered at Buffalo Wild Wings), Wing Tuesday and Boneless Thursday. The nice thing about co-hosting a party at Buffalo Wild Wings is that you can enjoy the good food and fun atmosphere and not have to clean up afterwards.
I think it would be a ton of fun to either go with friends or your family to enjoy the yummy wings, beer and game time at Buffalo Wild Wings! Not only are wings tasty, but they are super fun for kids and adults to eat! Plus, watching the game with other fans (or opposing team's fans) is even more as you enjoy good food and cheer (or boo) with fans around you.
Be sure you Follow Buffalo Wild Wings on Twitter and Like Buffalo Wild Wings on Facebook.
Related
Shannon Gurnee is the author of Redhead Mom formerly "The Mommy-Files", a national blog with a loyal following. She has a Bachelor's Degree in Marriage, Family, and Human Development with a Minor in Business Management. Shannon and her husband, Frank, have a large family with 6 awesome kids and love living on the Central Coast near San Luis Obispo, California, as well as traveling around the world. A full-time Social Media and Professional Blogger, Shannon also serves as a National Brand Ambassador for many well-known companies. Her blog focuses on motherhood, family fun activities, traveling, fashion, beauty, technology, wedding ideas and recipes while providing professional opinions on products, performances, restaurants, and a variety of businesses.
One Response to "Celebrate Football Season with Good Eats from Buffalo Wild Wings!"