Protect the Love with Vectra Flea and Tick Control
By Shannon Gosney
April 9, 2013
1 Comment
2539 Views
This is a Sponsored post written by me on behalf of Vectra flea & tick control for SocialSpark. All opinions are 100% mine.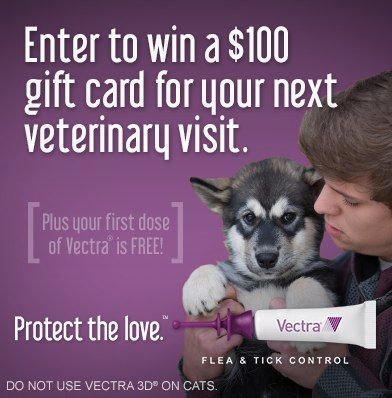 There is a special bond that comes between a man (or woman) and his (or her) pet.  That pet becomes almost like a child and you want nothing but the best!  Fleas and ticks are something that no pet owner wants their pet to experience!  Anywhere in the country, it's possible for your pet to get fleas, ticks and other dangerous vectors. It only takes one bite and the disease is spread.  This is why you need the fast-acting, long-lasting, broad-spectrum protection of Vectra 3D.  You can even get a free dose of Vectra flea & tick control.
Vectra is fast-acting!  It kills through contact, so parasites don't have to bite to die.  The product begins reducing flea feeding within 5 minutes and fills fleas in 6 hours.  What could be easier and quicker? However, these aren't the only pests that can invade your home, if you end up finding out that you have other intruders then you should contact pest control services to help you get rid of them.
Vectra also offers the Broad Spectrum Protection.  It repels and kills fleas, ticks, mosquitoes, biting and sand flies, lice and mites (excluding mange mites).  A repelled vector doesn't attach or bite your dog; therefore repellent action may reduce the risk of vectors spreading disease to your dog.  Vectra kills adult fleas and prevents the development of all immature stages of fleas: eggs, larvae and pupae.
Vectra is long-lasting.  This is so important, especially when it comes to getting rid of fleas.  The product remains effective after bathing and swimming and protects for 1 month.
Vectra is convenient.  It offers protection for puppies as young as 7 weeks of age.  The patented applicator makes it super easy to use.  Please note that you should not use Vectra 3D on cats.
Right now, you can enter the Vectra's Protect the Love Facebook Sweepstakes for a $100 gift card to use at your next veterinarian visit.  A gift card will be rewarded each week of the duration of the Sweepstakes.  Each entrant to the Protect the Love Sweepstakes can also claim a FREE dose to redeem at a Vectra veterinarian near you.  All you need to do is enter the sweepstakes, then visit FirstDoseFree.com and fill out the form.
Be sure to "like" Vectra on Facebook and follow @VectraPet on Twitter.
Related
Shannon Gurnee is the author of RedheadMom formerly "The Mommy-Files", a national blog with a loyal following. She has a Bachelor's Degree in Marriage, Family, and Human Development with a Minor in Business Management. Shannon and her husband, Frank, have a large family with 6 awesome kids and love living on the Central Coast near San Luis Obispo, California, as well as traveling around the world. A full-time Social Media and Professional Blogger, Shannon also serves as a National Brand Ambassador for many well-known companies. Her blog focuses on motherhood, family fun activities, traveling, fashion, beauty, technology, wedding ideas and recipes while providing professional opinions on products, performances, restaurants, and a variety of businesses.
One Response to "Protect the Love with Vectra Flea and Tick Control"