Halloween Blog or Treat Link-Up
By Shannon Gosney
October 22, 2010
7 Comments
4979 Views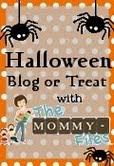 This is the 2nd Annual Halloween Blog or Treat Swap hosted on The Mommy-Files and I hope everyone had just as much fun as I did!  Hopefully all packages have been sent out and participants are starting to see the Halloween goodies arrive on their doorsteps!
Once you have posted about the goodies you received in the swap, please link-up in the Mister Linky below!  I look forward to seeing everyone's posts and the Halloween goodies they received!
We will also be having a swap coming up for Christmas (starting in November)!!!!
Happy Halloween everyone!
7 Responses to "Halloween Blog or Treat Link-Up"