Halloween Blog or Treat Update
By Shannon Gosney
October 7, 2009
9 Comments
2116 Views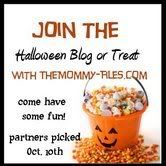 I am getting excited, as I'm sure all of you participants are!!! I have 48 people who have filled out the surveys for the Blog or Treat and 5 that haven't emailed me back yet. I will see where we stand tomorrow, as I know I have received some more emails, but it is too late to sort through them right now.
I will be randomly assigning partners and will email you your blogging buddy's information, including the email address and survey, which also includes a name and mailing address – lol. We even have 1 guy participating – thanks Joey!! It will be lots of fun, as I know many of you are gearing up to find out what your person likes or wants in their Halloween box of goodies!
You'll be hearing from me soon! Have a great night everyone!
9 Responses to "Halloween Blog or Treat Update"