Tasty Tuesday
By Shannon Gosney
October 5, 2009
7 Comments
1380 Views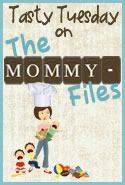 On The Mommy-Files, I have come up with a fun theme called Tasty Tuesdays.  Sometimes we'll do recipes, other times we'll talk about kitchen tips or cooking tips.
Today, I decided to focus on chocolate.  Surprised?  Not if you've ever been to my blog before!  I've discovered that freezing Reese's Peanut Butter Cups is absolutely divine. 
What things do you love to put in the freezer and then eat?
7 Responses to "Tasty Tuesday"