"Jonas Rockin' the House: Volume 1" DVD Review
By Shannon Gosney
October 2, 2009
2 Comments
1408 Views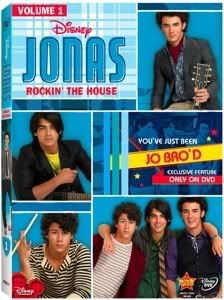 I had the opportunity to review the newly released "Jonas Rockin' the House: Volume 1" on DVD. I liked it! I enjoyed that they incorporated some of their music, as well as experiences they have as teenage boys who are also famous, into their episodes. There were some pretty funny parts in it as well! Plus, there were special features on the DVD. I enjoyed watching "You've Just Been Jo Bro'd." That poor girl – she was a real trooper. I don't know what I would do, but I would definitely be relieved to know it was set up and not real – lol! Plus, with the DVD you'll get the chance to see Bonus Episodes, which have never been seen before!
"Jonas Rockin' the House (Volume 1)
" was released on DVD by Walt Disney Studios Home Entertainment on September 22nd.  Five episodes of the latest smash-hit Disney Channel Original Series are available on DVD JONAS is the hottest rock band on the planet! Band members Nick, Kevin, and Joe Lucas are superstar pop idols who tear up the stage, night after night, causing severe outbreaks of JONAS induced hysteria. But behind the cool clothes and sleek guitars, they're just three boys from New Jersey. These ultra-talented brothers are also best friends and still live at home with Mom, Dad, and little brother Frankie. At school, they hang out with lifelong friend and style guru Stella Malone who believes fashion is the sixth sense. And when their classmate – and major fan – Macy gets uncontrollably excited around them, usually someone's going to get hurt. These brothers are probably the only superstar idols who still have to do the dishes, but they know how lucky they are to be living their dream.
Bonus Episodes – World premiere episodes on DVD, never-seen-before
"Beauty & the Beat"
"Cold Shoulder"
Bonus Feature
You've Been Jo Bro'd – Surprising Chelsea Staub
STREET DATE: September 22, 2009
Suggested retail price: $19.99 US; $24.99 Canada
Rated: 'TV-G'
Run time: Approx. 113 minutes
DVD aspect ratio: 1.33:1
Kevin's Guitar (film)
Book of Jonas (film)
Chit Chat (bonus)
The Prank (bonus)
2 Responses to ""Jonas Rockin' the House: Volume 1" DVD Review"