Tasty Tuesday
By Shannon Gosney
September 28, 2009
14 Comments
2825 Views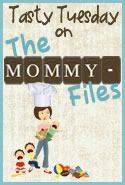 Welcome to Tasty Tuesday on The Mommy-Files. Feel free to post your recipes on your blogs!  I know there are some good ones out there, so feel free to link up on the Mister Linky in my post!  Here is my recipe:
Mom's Yummy Greek Chicken & Pasta
– 2 1/2 cups uncooked Penne Pasta
– 1/4 cup butter
– 1 onion, chopped
– 1/4 cup all-purpose flour
– 2 cups chicken broth
– 1 1/4 cup crumbled Feta Cheese
– 3 chicken breasts, cooked, and shredded
– 12 marinated artichoke hearts (from the jar), sliced in half (more if you really like them)
– 1/2 cup sliced kalamata (purple/Greek) olives
Preheat your oven to 350 degrees Fahrenheit.
Spray 9×13 baking dish with cooking spray.
Cook and drain pasta according to box directions.
While pasta is cooking, melt butter over medium heat in a saucepan. Add chopped onion and cook until onion is semi-soft, not mushy. Stir in flour and then cook and stir for 30 seconds longer.
Slowly stir in the broth and heat to boiling. Cook for 4 minutes more, stirring frequently (to avoid burning at the bottom), until thickened.
Remove saucepan from heat and stir in cheese. Add more cheese as desired (I love cheese, so I know I added more)! Gently stir in cooked pasta, artichoke hearts, olives, and cooked, shredded chicken.
Pour into 9×13 pan and bake for 25 minutes or until hot.
This dish is so yummy and goes so fast in our family! This dish actually gets me comments from my kids such as "You're a great cook mom!" "May I have more please!" "This is definitely a dish we can have again in the future!"
I was enjoying the dish so much and it went so fast that I forgot to take a picture of it. Just from the ingredients though, you should get a sense of how good it really is!!!!
14 Responses to "Tasty Tuesday"