Scooby Doo Review & Giveaway
By Shannon Gosney
September 25, 2009
186 Comments
13825 Views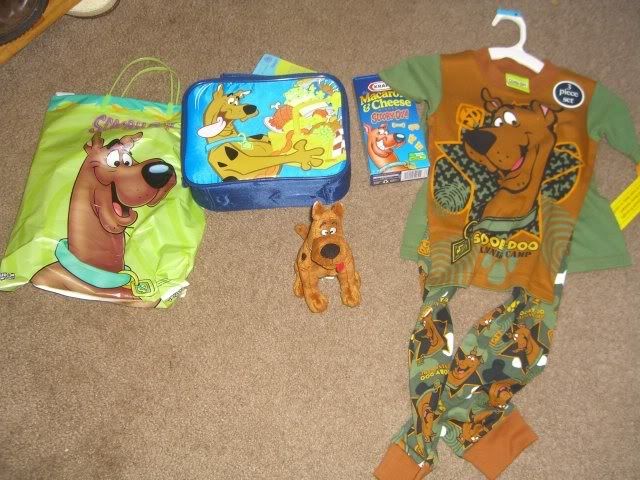 My boys LOVE to watch Scooby Doo and play with Scooby Doo toys.  We recently received some Scooby Doo products, including Scooby Doo pajamas for my 6 year old, a Scooby Doo Plush (for my 3 year old), a Scooby Doo lunch box, and a box of Scooby Doo Macaroni and Cheese (a favorite among my boys) from Warner Bros.  I remember watching Shaggy, Scooby Doo, Daphne, and the gang when I was a kid.  I giggle at myself when I start singing along with the Scooby Doo theme song!  My boys get a kick out of it every time they watch the show!  Did you watch Scooby Doo growing up?  Do your kids watch it now?
Thanks to Warner Bros., 2 lucky readers on The Mommy-Files will receive their very own Scooby Doo lunch box!!
WIN IT!!! (MANDATORY ENTRY)
– Tell me in a comment who your favorite character in Scooby Doo is.
EXTRA ENTRIES!!!
– Subscribe to The Mommy-Files – 1 entry.
– Follow The Mommy-Files via Google Connect (on the right sidebar) – 1 ENTRY
– Favorite me on Technorati – 1 entry.
– Follow me on Twitter (themommyfiles) – 1 entry.
– Tweet daily (one entry per daily tweet for this contest).
– Blog about the giveaway and include blog link in comment – 3 entries
– Add The Mommy-Files button – 1 entry
– Comment on any other "non-giveaway" post – 1 entry per post
RULES
– Giveaway ends at 11:59 p.m. PST on Thursday, October 8th, 2009.**IF YOU SUBMIT A COMMENT AFTER 11:59 PM ON THURSDAY, OCTOBER 8TH, IT WILL BE DELETED**
– Winners must respond within 48 hours of the winning post or another winner will be chosen.
I received a  set of Scooby Doo pajamas, a Scooby Doo plush, a box of Scooby Doo Mac & Cheese, and a Scooby Doo lunch box for my 3 boys so that I could write an honest and real review of the Scooby Doo products offered by Warner Bros.  
186 Responses to "Scooby Doo Review & Giveaway"