Get a Good Night's Sleep with ZzzQuil
By Shannon Gosney
May 31, 2013
0 Comments
3181 Views
This is a Sponsored post written by me on behalf of ZzzQuil for SocialSpark. All opinions are 100% mine.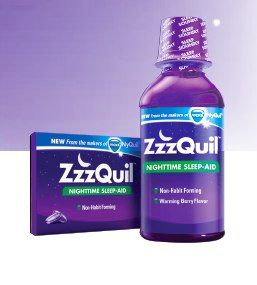 Do you ever find you are having difficulty going to sleep at night?  You lay in bed thinking about the things that didn't get done earlier in the day or the things that need to get done the following day.  You turn on the television and watch shows you normally wouldn't watch just so you don't have to close your eyes.  Maybe you stay up until the wee hours of the morning working on your computer, website, or business?  ZzzQuil is here to help!
What is ZzzQuil?  ZzzQuil is brought to you by the makers of Vicks NyQuil, for when your only symptom is occasional sleeplessness.  It's not for colds or pain – it's just for sleep.  ZzzQuil's active ingredient, diphenhydramine HCI, helps reduce the time it takes for you to fall asleep when you have difficulty falling asleep, so you can sleep soundly and wake up refreshed.
ZzzQuil is the only over-the-counter sleep-aid medication available in both Liquid (Warming Berry flavor) and LiquiCap® forms.  ZzzQuil is a sleep-aid product that delivers the effective relief that consumers have come to expect from Vicks products.  ZzzQuil is intended for adults and children 12 years of age and older.  It is non-habit forming as well as safe and effective when used according to package directions.  More information about ZzzQuil is available at www.zzzquil.com.
Thanks to P&G, I received a sample of ZzzQuil to help me get a good night's rest when I found it difficult to do so on my own.  When I received the medicine in the mail, the first thing I noticed was the packaging.  I loved the purple color and the overall look of the package.  I received the liquid rather than the pills and don't usually like liquid medicines.  However, this one had a berry flavor to it, which made it taste better than straight medicine.  I personally would prefer the pill form in the future though.  I found the medicine worked well and didn't leave me feeling groggy or tired in the morning.
Do you ever find yourself having a hard time going to sleep?  Would you give ZzzQuil a try?